Application note: Performing Bio-AFM on live cells
This application note discusses the use of atomic force microscopy in biological research, particularly for studying live cells and bacteria, single-cell manipulation, and force spectroscopy. We highlight the integration of Bio-AFM with optical microscopy and the importance of maintaining physiological conditions during experiments. Learn about the use of various AFM accessories to create a near-physiological environment and manipulate cells. These tools enable precise control over temperature, humidity, pH, and media perfusion, crucial for accurate and relevant biological experiments.
What you will learn
Integrate Bio-AFM with Optical Microscopy: Understand the benefits of combining Bio-AFM with optical microscopy techniques for enhanced biological research.

Maintain Physiological Conditions in Experiments: Learn the importance of creating and maintaining physiological conditions, including temperature, humidity, and pH, for live cell experiments.

Utilize Accessories for Bio-AFM: Gain knowledge on how to use various accessories like the Live Cell Incubator, Petri dish holder, and perfusion-insert for precise experimental control.

Perform Temperature and Humidity Control: Understand the methods to control temperature and humidity in the experimental setup to mimic physiological conditions.

Conduct Perfusion of Cell Media: Learn the techniques for controlled disturbance of cells, such as media change or chemical addition, using the perfusion-insert.

Explore Single Cell Force Spectroscopy and Cell Manipulation: Discover the applications of single cell force spectroscopy and cell manipulation using FluidFM® in biological research.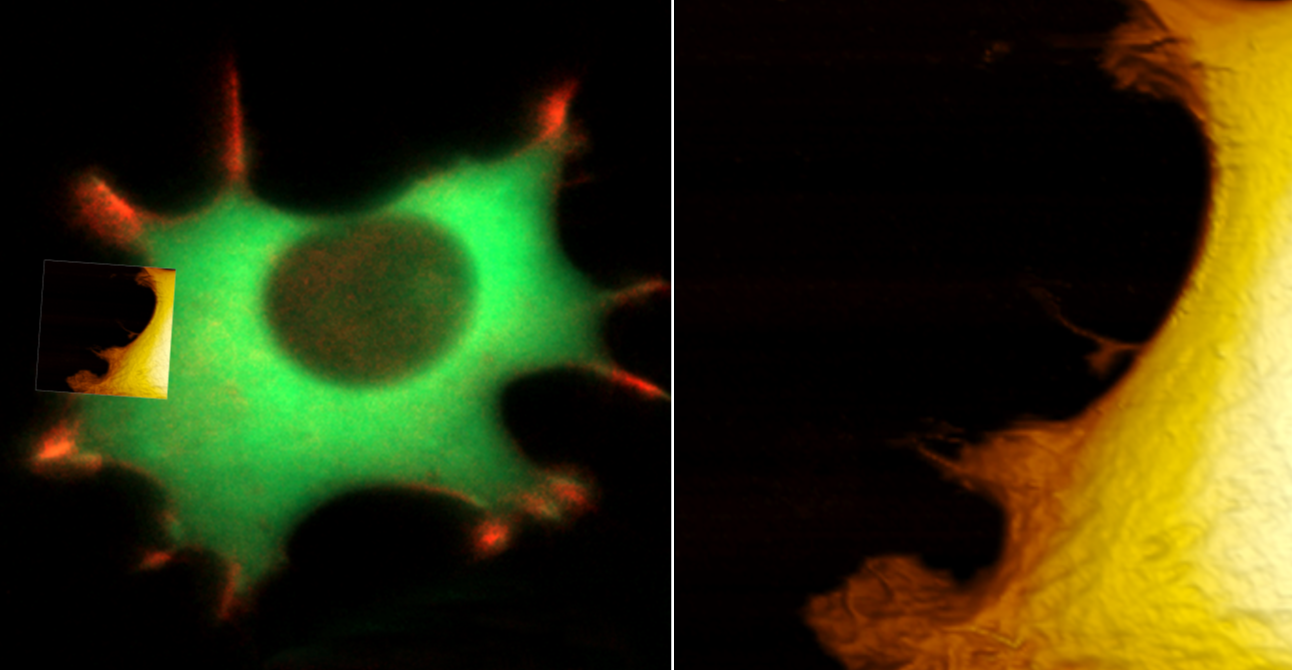 Live fibroblast imaged with inverted light microscope and AFM under cell culture conditions
Left: cell with genetically encoded fluorescent makers (actin-mcherry, gfp-paxilin).
Right, AFM image, 10 μm width.
Download this application note